BACON WRAPPED TATER TOT BOMBS
Advertisement
Advertisement
BACON WRAPPED TATER TOT BOMBS
The most amazing tater tots ever, baked to crisp bacon-perfection. It's so good, you'll want to double or triple the recipe!

I have been sick with the flu for the past couple of days, feeling extremely fatigued without any kind of appetite. That's when Jason offered to cook me breakfast, my favorite meal of the day, except all we had was bacon, cheese and tater tots. But before I could even think about ordering breakfast delivery, I just knew I had to make these tater tot bombs I've been seeing all over Pinterest.
And yes. The name definitely lives up to its hype. These tater tot bombs are, well, bomb. No joke. Now I haven't used the word "bomb" since middle school but hey – that word describes these perfectly. And these tater tots may even have some epic powers because after eating about 20 of these, my flu magically went away.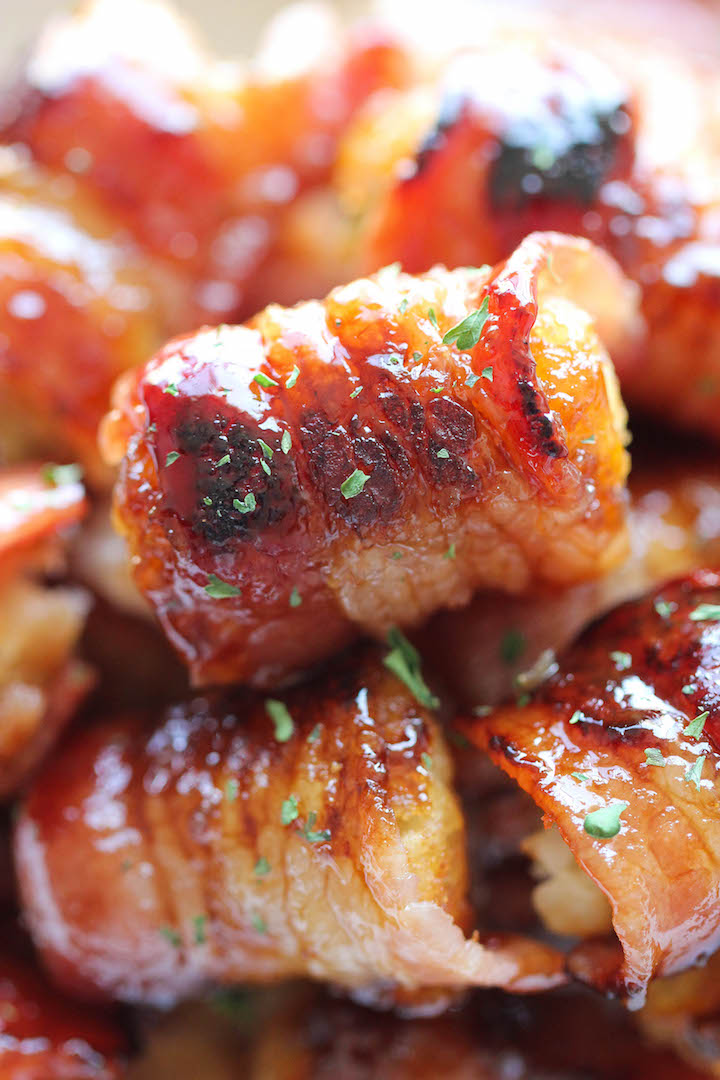 Flu or not, I'll still be making these weekly. I just have to remember to double the recipe because these are very hard to share!
Bacon Wrapper Tater Tot Bombs
yield: 8 SERVINGS
prep time: 15 MINUTES
cook time: 25 MINUTES
total time: 40 MINUTES


The most amazing tater tots ever. It's so good, you'll want to double or triple the recipe!



INGREDIENTS:
2 cups frozen tater tots, at room temperature
1 ounce sharp cheddar cheese, cut into 1/4-inch squares
4 slices bacon, quartered
1/4 cup brown sugar, packed
1 tablespoon chopped fresh parsley leaves


DIRECTIONS:

Preheat oven to 400 degrees F. Line a baking sheet with parchment paper or a silicone baking mat; set aside.

Working one at a time, wrap each tater tot and cheese square in a piece of bacon. Repeat with remaining tater tots, cheese squares and bacon pieces. Dredge each tater tot in the brown sugar, pressing to coat.

Place tater tots seam side down onto the prepared baking sheet. Place into oven and bake for 20-25 minutes, using metal tongs to turn at halftime.

Serve immediately, garnished with parsley, if desired.
BACON WRAPPED TATER TOT BOMBS
Reviewed by
Admin
on
October 07, 2018
Rating: