Buffalo Chicken Bites with Blue Cheese Dip
Advertisement
Advertisement
Buffalo Chicken Bites with Blue Cheese Dip
Buffalo Chicken Bites with Blue Cheese Dip are perfect appetizer for Super Bowl party food menu! These are delicious football snack for all buffalo chicken lovers! Especially for those who prefer to enjoy the spicy Buffalo Chicken Wings along with the Blue Cheese Dip.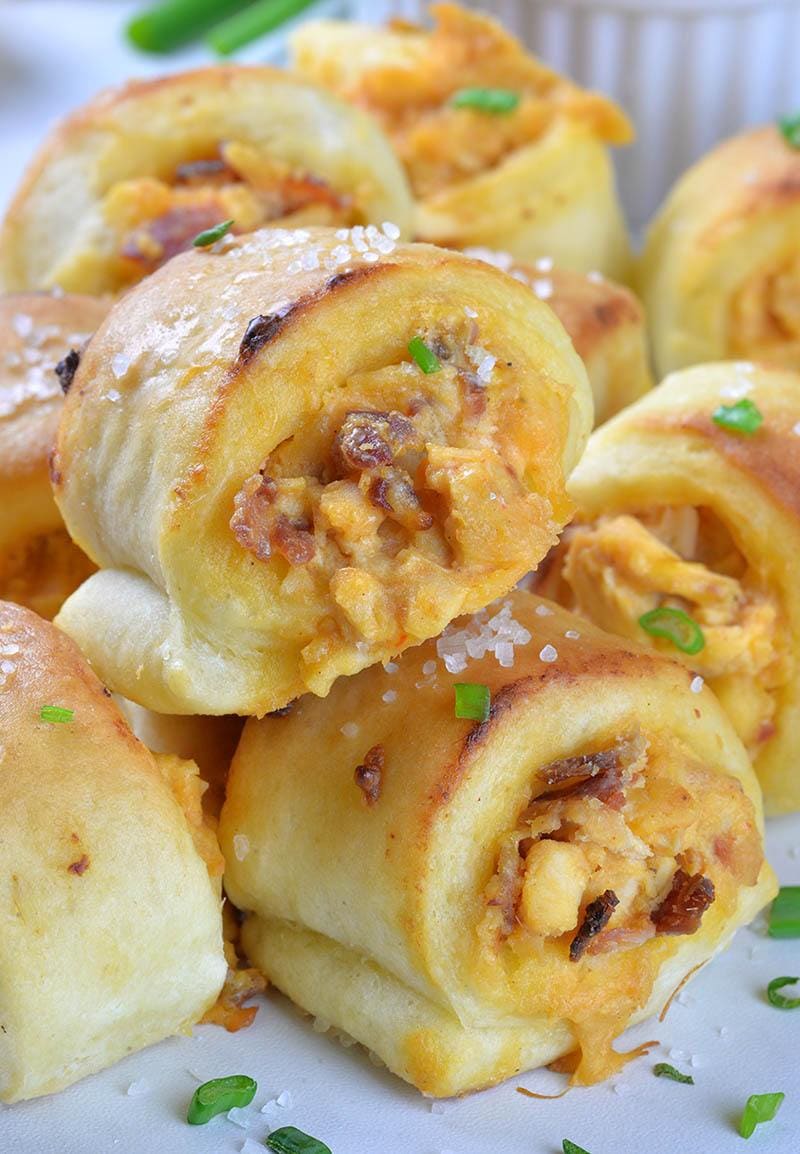 If you are not a football fan, then you must serve these Buffalo Chicken Bites with Blue Cheese Dip on any other party. Just because these are crowd pleaser appetizer and you will get only great reviews!
Although the recipe has a long list of ingredients and instructions, don't worry! Actually, this recipe is very simple and easy to make.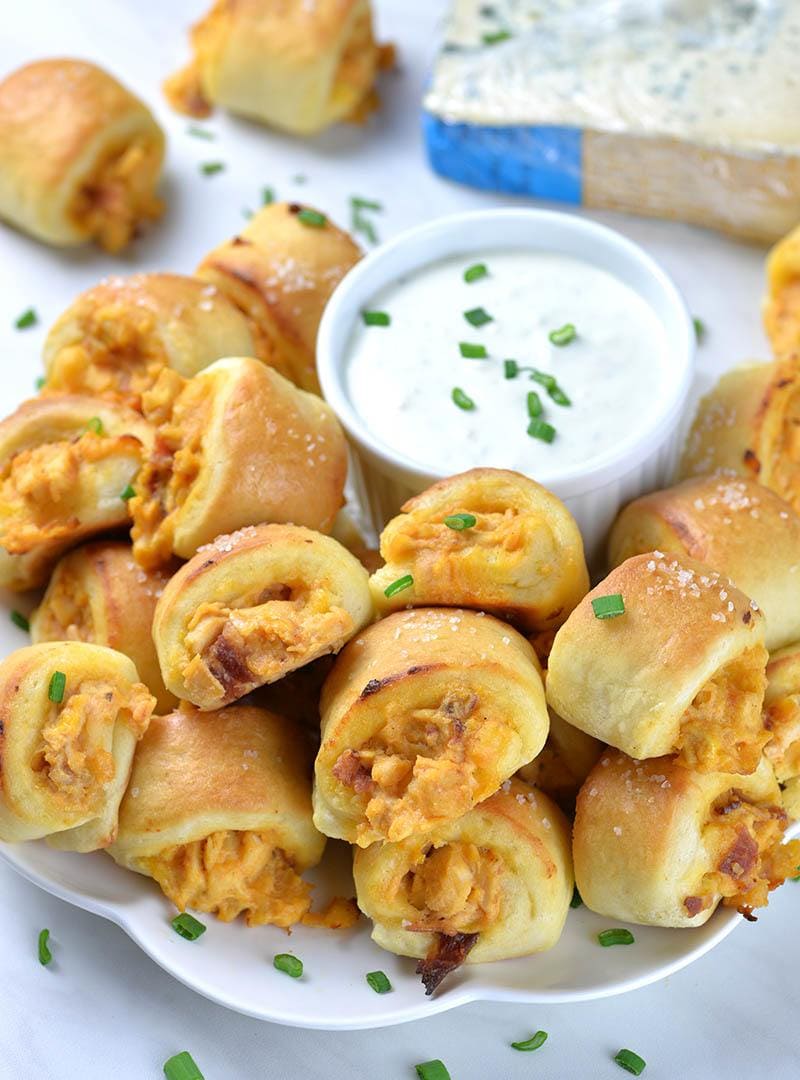 Moreover, I'm not an expert or a fan of dough making. When I am making a dough, it usually ends up like one big disaster. I hate to knead the dough with hands. Also, I'm never patient enough to wait for dough to rise. So, I always end with dense or dry homemade pastry. That's why I often use a shortcut and reach for pre-made crescent roll dough, puff pastry or something similar.
But, this dough is so simple to make, and success is guaranteed every time! The mixer fitted with the dough hook will do most of the work. And if your kitchen is warm enough, the dough will rise very quickly, you won't even have to wait for two whole hours and additional 30 minutes when you arrange the rolls on baking sheet.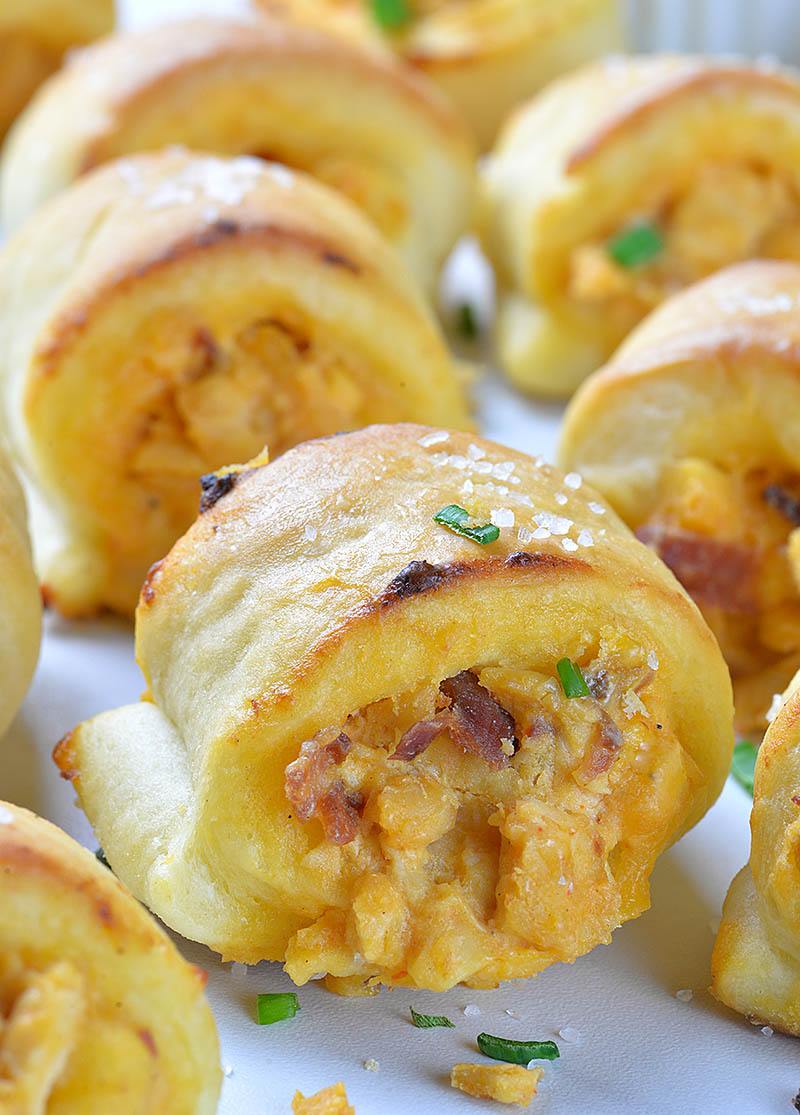 As a result, you'll get soft and irresistible Buffalo Chicken Bites. These yummy bites are always a hit when I served them at any party or casual gathering with friends. Moreover, these are a staple for my hubby and his friends when they come to our house to watch the Super Bowl.

Buffalo Chicken Bites With Blue Cheese Dip
Prep Time: 30 minutes
Cook Time: 10
Yield: 48 mini rolls
Category: appetizers
Description
Buffalo Chicken Bites with Blue Cheese Dip are perfect appetizer for Super Bowl party food menu!
Ingredients
Buffalo Chicken Filling:
1 cup cooked chicken breasts- small diced
¼ cup shredded Cheddar cheese
4 oz. cream cheese-softened
¼ cup hot sauce
2 slices of bacon-cooked and crumbled
¼ cup butter-melted and slightly cooled
¼-½ tsp. garlic powder (to taste)
salt to taste
For the dough:
1 cup warm milk
2 Tbsp. brown sugar
2 ½-3 cups all-purpose flour
7 oz. envelope instant dry yeast (2 ¼ tsp.)
4 Tbsp. melted butter
Kosher salt
Blue Cheese Dip:
½ cup sour cream
½ cup mayonnaise
2.5 oz. (½ cup) Blue cheese-crumbled
1 ½ Tbsp. lemon juice
Salt and freshly ground black pepper to taste
Sliced green onion for garnish
Instructions
To make the dough:
In the bowl of a stand mixer fitted with the dough hook, place warm milk and sugar, stir with a spoon to dissolve.
Add 2 ½ cups flour and dry yeast, then mix on low speed until a soft dough forms. Add a little more flour at the time if needed. Kneed 5-6 minutes.
Transfer the dough onto lightly floured surface and knead a few times with your hands to form a ball.
Then transfer the dough into a bowl lightly greased with vegetable oil. Cover the bowl with plastic wrap and set aside on a warm place up to 2 hours or until the dough doubled in size and bubbles appear on the surface.
While you are waiting the dough to raise, prepare the filling and Blue cheese dressing.
To make the Buffalo Chicken filling:
In a bowl combine all filing ingredients (diced chicken, cream cheese, shredded Cheddar cheese, Hot sauce, crumbled bacon, melted butter, garlic powder and salt). Then stir well until evenly combined, set aside.
Blue Cheese Dip:
In a bowl combine crumbled blue cheese, mayonnaise, sour cream, lemon juice, salt and pepper. Stir well. Store in the fridge until serving. Garnish with sliced green onion when ready to serve.
Assembling Buffalo chicken bites:
Line large baking sheets with parchment paper.
Transfer the dough on a floured surface and cut in 4 equal pieces.
Knead each piece a few times, then roll with your hands to make about 12 inches long rope. Then using a rolling pin dusted with flour, roll out each rope in a 12 x 4 inches rectangle with the long side facing you.
Spread ¼ of the filling into the bottom third of each rectangle, then roll as tightly as possible, starting with the end that has the filling.
Cut each log in 12 1-inch pieces and arrange on baking sheets leaving 2 inches apart. Let it sit for about 20-30 minutes to rise.
Meanwhile, preheat oven to 375 F and place the rack in the middle position.
Brush each roll with melted butter and sprinkle with kosher salt.
Bake 10-12 minutes, until golden brown. Serve warm with Blue Cheese Dip and enjoy!
Buffalo Chicken Bites with Blue Cheese Dip
Reviewed by
Admin
on
October 07, 2018
Rating: