Advertisement
Advertisement
Fresh Peach Delight
Fresh Peach Delight is a refreshing layered dessert. Graham cracker crust is followed by a layer of fresh peach and jello filling, finished with a layer of cream cheese and cool whip mixture sprinkle with graham cracker crumbs on top.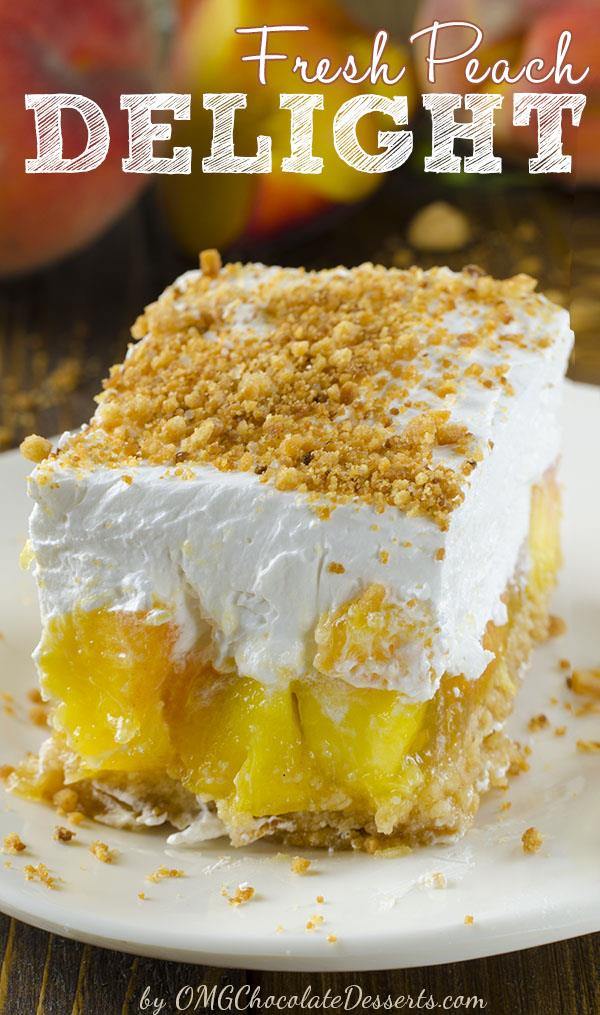 You will, of course, need the oven for just a short time to bake the mixture of sugar, graham crackers crumbs and butter which make the tasty crust of this treat. This dessert doesn't implicate much active time. But you have to plan it in advance because you have to wait for a few hours for it to cool of and for the jelly to thicken before you can continue your work.
And another very important thing, it is not called "Fresh Peach Delight" for nothing. I really highly recommend that you use fresh peaches now while they are in the season. The smell and taste of this juicy fruit which stays fresh and unbaked in the filling can really not be replaced with canned peach.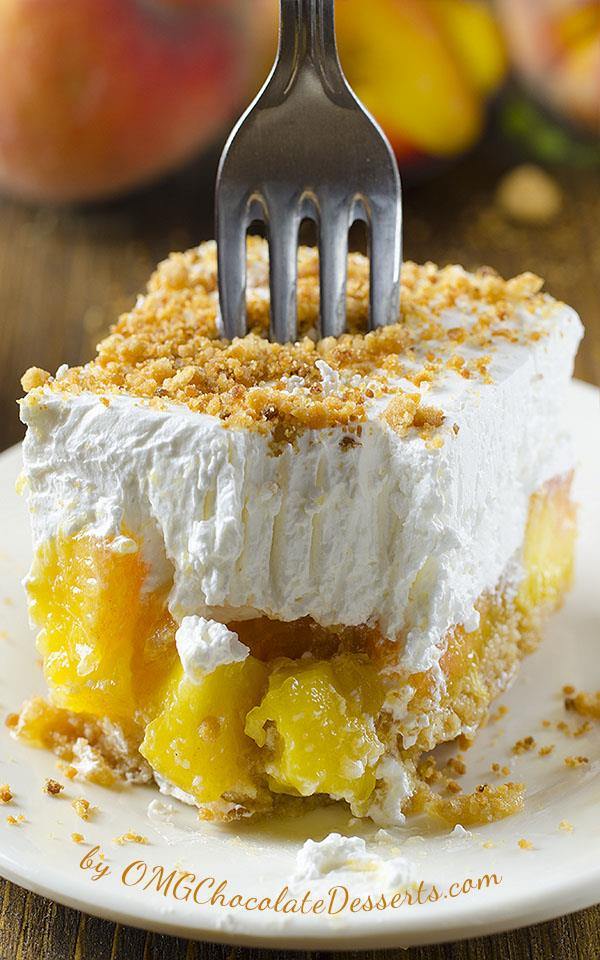 Easy and creamy, made with fresh fruit, Fresh Peach Delight is the perfect choice for summer barbecue parties or to take it on a potluck. I'm sure that it will be a huge hit where ever you serve it, too.
On my blog there were already many treats like this: chocolate lasagna, pumpkin lasagna, key lime pie lasagna, sex in the pan… And I told myself that I went maybe a little too far with layered desserts. Then I found this great recipe by Clussy Cutter and I tried to resist it really hard, but simply had to try it. As you can imagine, I didn't regret it.
Graham crackers, no bake cheesecake filling, juicy sweet peaches and and the little effort needed to make the Fresh Peach Delight are surely strong enough arguments to try this refreshing summer dessert. If you like peach, of course 🙂
Craving for more peach desserts?! Check these delicious recipes:
There are three reasons why this fantastic Peach Cobbler can become one of your favorite recipes – it's super tasty, super simple and super economic. You don't believe me? Try it and tell me if I was right!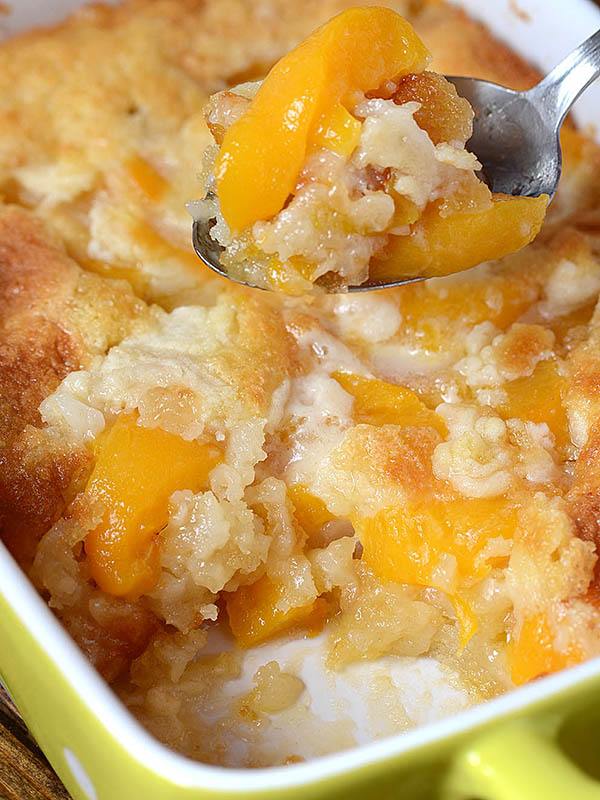 This Crescent Roll
Peach Dumplings recipe
is one of the best Southern food dessert recipes.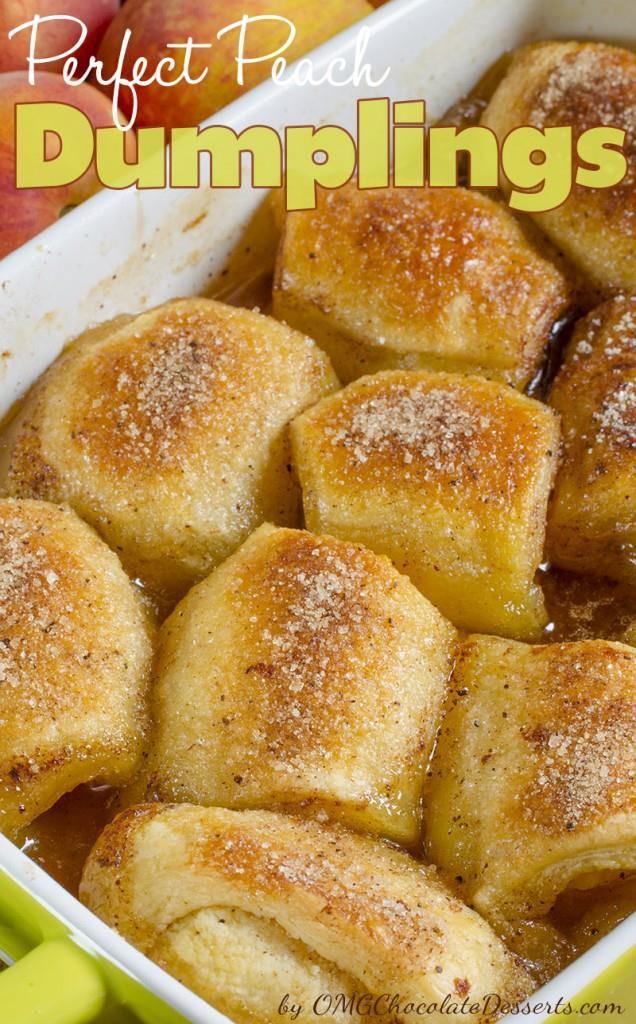 Caramel Crumble Peach Pie – homemade buttery crust packed with sweet juicy peaches and salted caramel sauce, topped with brown sugar cinnamon crumbs. Super easy, crowd-pleaser summer dessert.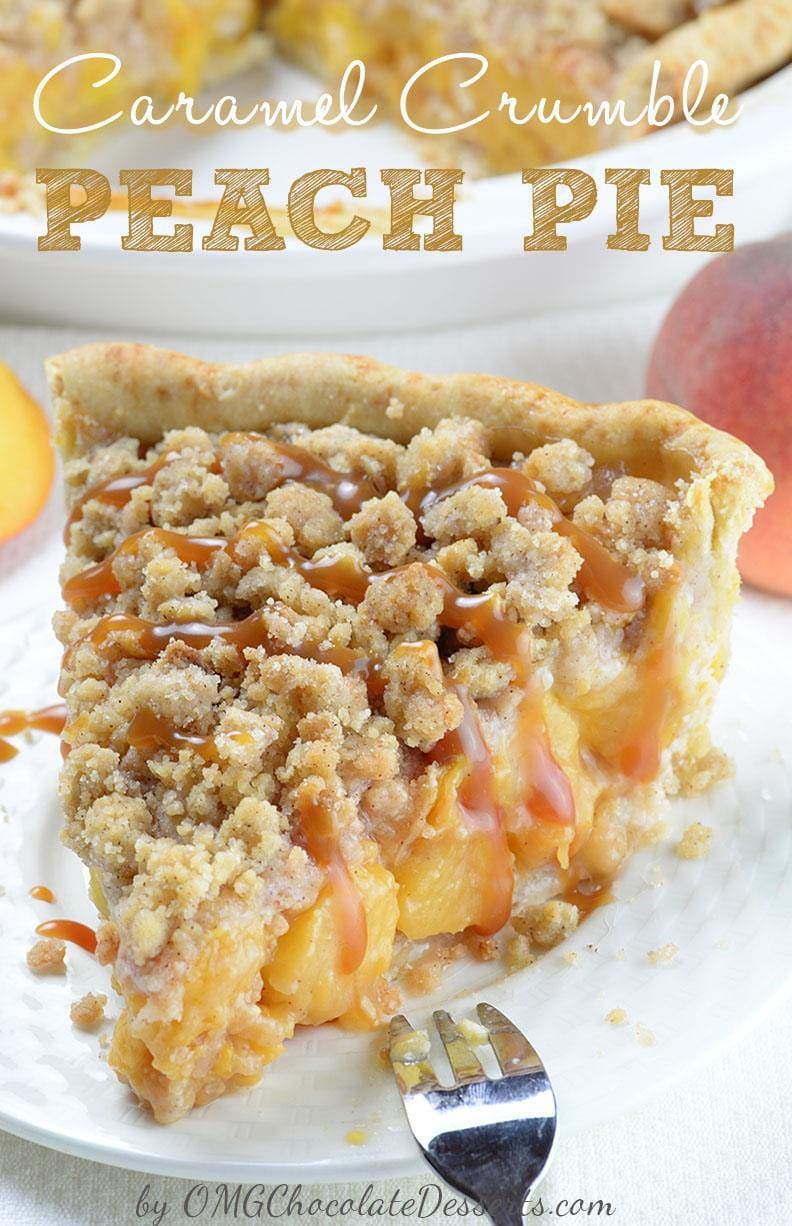 Pin Fresh Peach Delight Recipe for later:

Fresh Peach Delight
Description
Fresh Peach Delight is a refreshing layered dessert – graham cracker crust is followed by a layer of fresh peach and jello filling.
Ingredients
For graham cracker crust and topping:
2 cups crushed graham crackers
1/2 cup unsalted butter-melted
6 tablespoons sugar
For peach filling :5 cups fresh peaches-peeled and diced into 1 inch peaces (about 6-7 medium peaches)
2 cups water
1 cup sugar
3 tablespoons cornstarch
1 (3 oz.) package peach jello
For cheesecake layer:8 oz. cream cheese-room temperature
3/4 cup powdered sugar
1 teaspoon vanilla
1 (8 oz) carton cool whip


Instructions
Preheat oven to 375 F. In a bowl combine crushed graham crackers and 6 tablespoons sugar. Add melted butter and stir with a fork until all crumbs are moistened. Take out 1 1/2 cup crumbs and set aside for topping.
Press the remaining crumbs into the bottom of a 13×9 inch baking dish bake for 8 minutes. Set aside to cool.
In a sauce pan combine water, 1 cup sugar and cornstarch, stir well and bring to a boil. Add the package of peach jello and stir to dissolve. Remove the mixture from heat and allow to cool completely, then add diced peaches, stir and pour over cooled crust. Place in the fridge until set (about 4 hours).
Cream together powdered sugar, cream cheese and vanilla. Fold in cool whip and spread over the top of peach filling. Place in the fridge to set and top with the 1 1/2 cup reserved graham cracker crumb mixture before serving.
Fresh Peach Delight
Reviewed by
Admin
on
October 07, 2018
Rating: