ONE POT HEALTHY MEXICAN CHICKEN RICE
Advertisement
Advertisement
ONE POT HEALTHY MEXICAN CHICKEN RICE
Healthy Mexican Chicken Rice made in one pot with tons of flavors and deliciousness. A perfect dish for busy weeknight dinner. Colorful rice with nutritious veggies–you will want to make it again and again.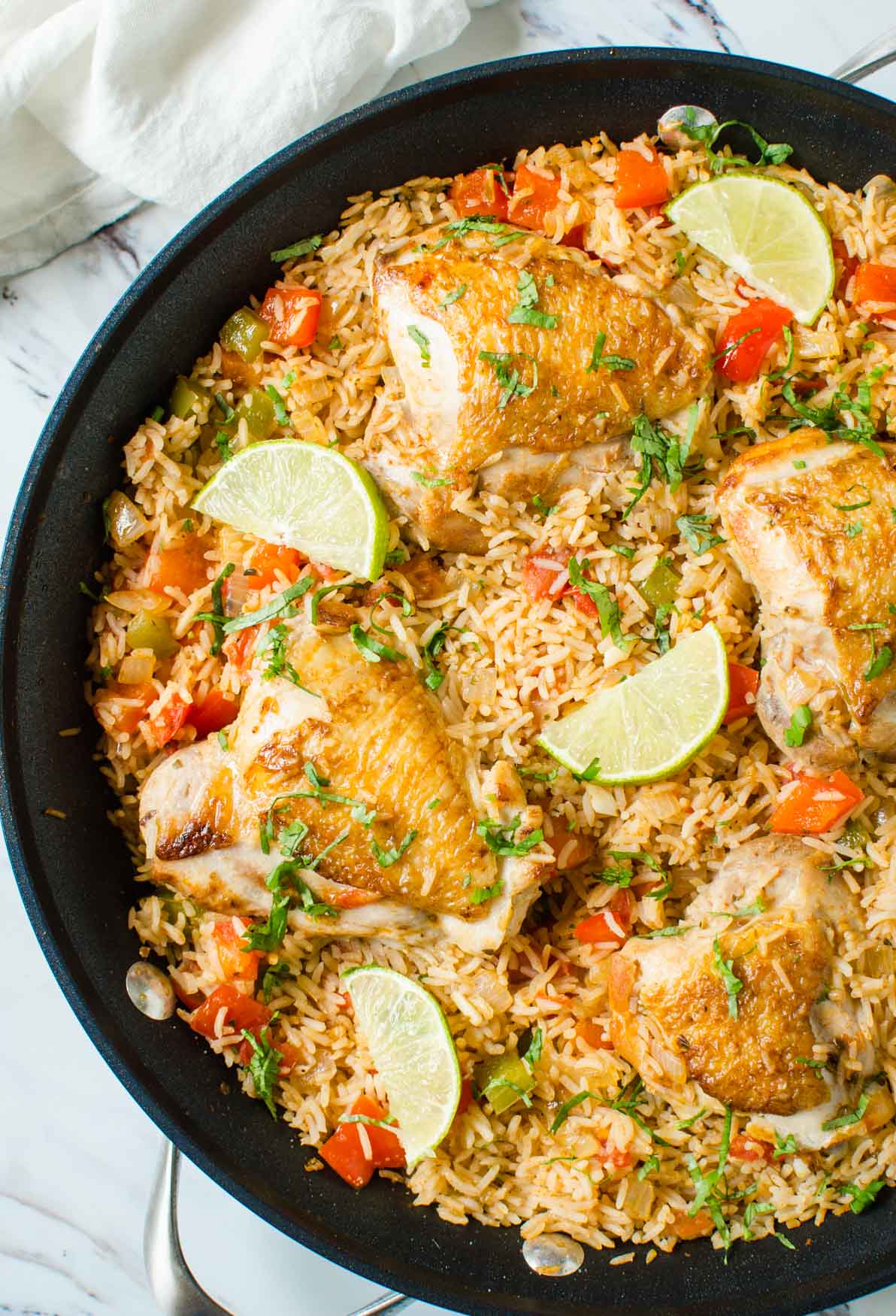 I am always happy and excited to make dishes with Mexican flavors. Because we both enjoy them and never say no to Mexican food. If you are someone like us, then I am sure you are gonna love this Mexican chicken and rice.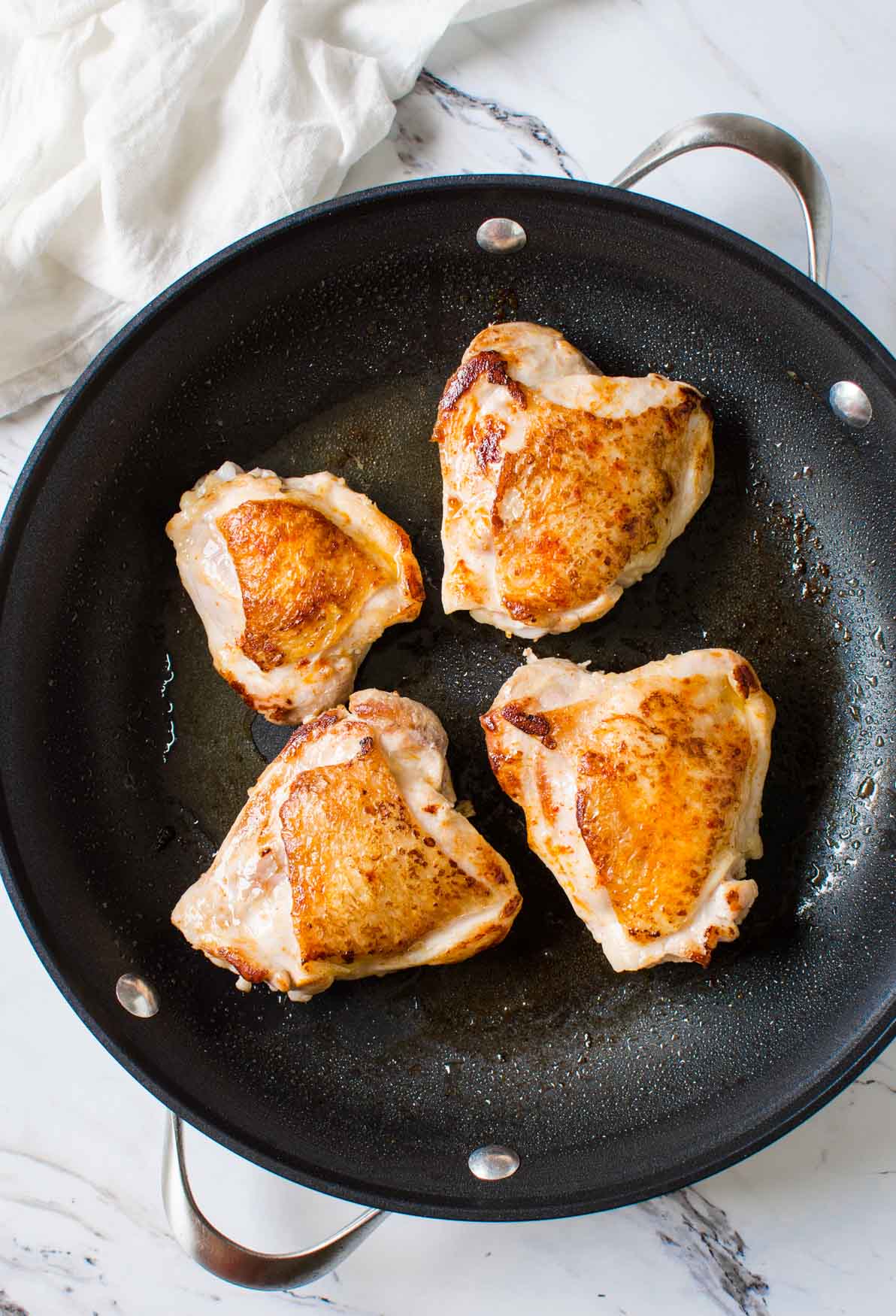 HEALTHY MEXICAN CHICKEN RICE RECIPE
In this recipe, I have used bone-in chicken thighs. To begin with heat a little oil in a nonstick pan. Then place the chicken on the skin side while the pan is hot. Let the chicken cook for a few minutes on one side till it develops a nice brown crust. Then flip to cook the other side. It will take hardly 3-4 mins to cook each side on medium to high heat. Take out the chicken and keep it aside.
In the same pan cook some garlic with some onions. Add diced colorful peppers, tomato, rice and Mexican spices. Saute this mixture for few mins. Finally, add liquid and salt (as per taste) and bring the mixture to a boil. Now place the roasted chicken thighs into the rice mixture skin facing upwards. Cover the pan and cook the rice on low heat until well done. Serve warm with lemon wedges and fresh cilantro.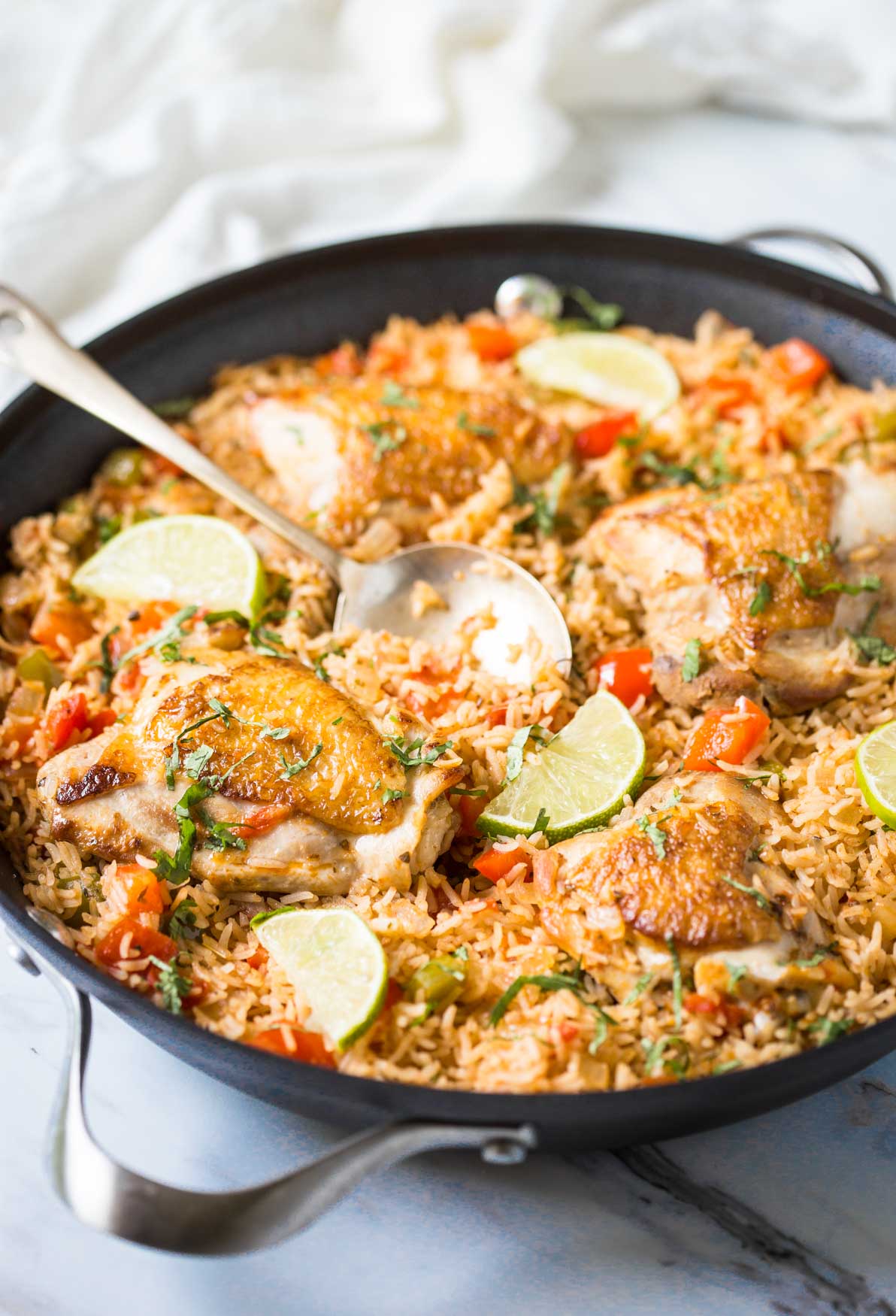 MEXICAN CHICKEN AND RICE – HELPFUL TIPS!

Use organic chicken whenever possible. We really find differences in taste between regular and organic chicken. Moreover, it is free from unwanted chemicals and artificial growth hormones. Organic chicken may cost a bit more but I feel in the long run health is more important.
You can remove the skin from the chicken thighs completely. However, I do keep it to give a nice crust and color to the whole dish. I trim excess skin using a kitchen scissor whenever needed. Trimming the excess skin also reduces the unwanted fat coming from them.
If possible use homemade roasted cumin powder which really makes the difference in the taste. I usually roast 1-2 teaspoon of cumin seeds in a small frying pan. I then crush them using my stone Molcajete. It's an additional step but trust me you will love the flavor of freshly ground cumin in your dish.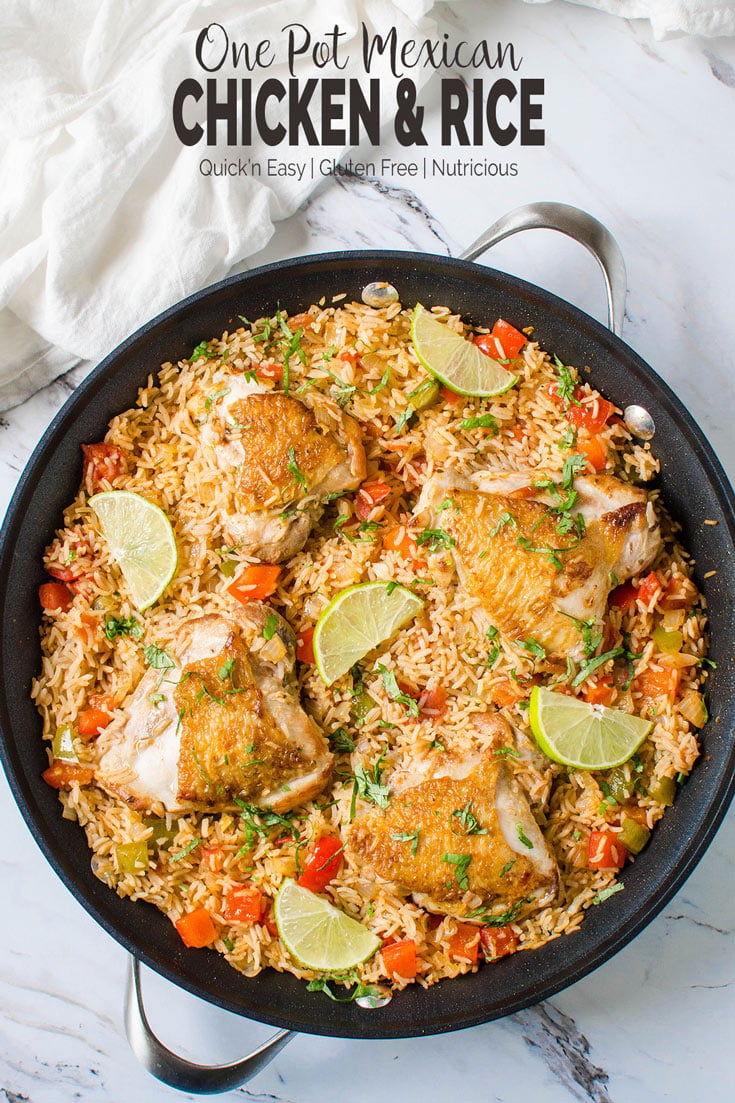 One Pot Healthy Mexican Chicken Rice
This healthy Mexican chicken and rice is loaded with fresh vegetables and tons of flavors. Simple and easy one-pot recipe for busy weeknight dinner.
Course Lunch / Dinner, Main Dish
Cuisine Mexican Inspired
Keyword Mexican chicken and rice, Mexican chicken rice, one pot Mexican rice
Prep Time 10 minutes
Cook Time 25 minutes
Total Time 35 minutes
Servings 4
Ingredients
4 chicken thighs
1 tbsp lemon juice
1/2 tbsp avocado oil or other cooking oil
1 1/4 cup white rice
2 1/2 cup chicken stock
2-3 garlic cloves minced
1 onion finely chopped
2 medium tomatoes diced
1 red pepper diced
Salt
Spices
2 tsp chipotle chili powder
1 tsp dried oregano
1/8 tsp cayenne pepper
1 tsp roasted cumin powder

Garnish
2 tbsp fresh cilantro finely chopped
1 lime cut into wedges
Instructions
In a small bowl mix, all the spices listed above and keep it aside.
Heat oil in a nonstick pan on medium heat.
Place chicken, add lemon juice, some salt, and sear for 3-4 min on each side. Once done take it out and keep it aside.
Now in the same pan add garlic and onion and cook until translucent.
Then add diced red pepper, tomato, rice and the spice mixture. Saute the mixture for 3-4 min.
Add chicken stock and bring the mixture to boil. Season with salt according to taste.
Place partially cooked chicken over rice and cook it on low heat for 15-18 min or until the rice is tender and chicken is well done. Make sure to place the lid on while cooking the rice.
Garnish with chopped fresh cilantro and serve warm.
Recipe Notes
For this recipe, generally, I use bone-in chicken thighs. Trim out the all loose and excess skin to reduce the fat coming from them.
Adding lemon juice and little salt and pepper while searing the chicken enhances its taste.
ONE POT HEALTHY MEXICAN CHICKEN RICE
Reviewed by
Admin
on
October 07, 2018
Rating: