Advertisement
Advertisement
These Beetroot Burgers really are the ultimate veggie burger! Follow these tips and tricks for how to get veggie burgers with the PERFECT texture and flavour. – Hungry now?
Creating a decent veggie burger can only be described as an art. It's too often you sink your teeth into a veggie burger and it's either dry as cardboard or so sloppy it spills out the burger bun. Finding that perfect middle ground, whilst still keeping the perfect texture is sometimes a little tricky. Having said that, once you perfect it, a decent veggie burger is absolute heaven (and that's coming from a meat eater).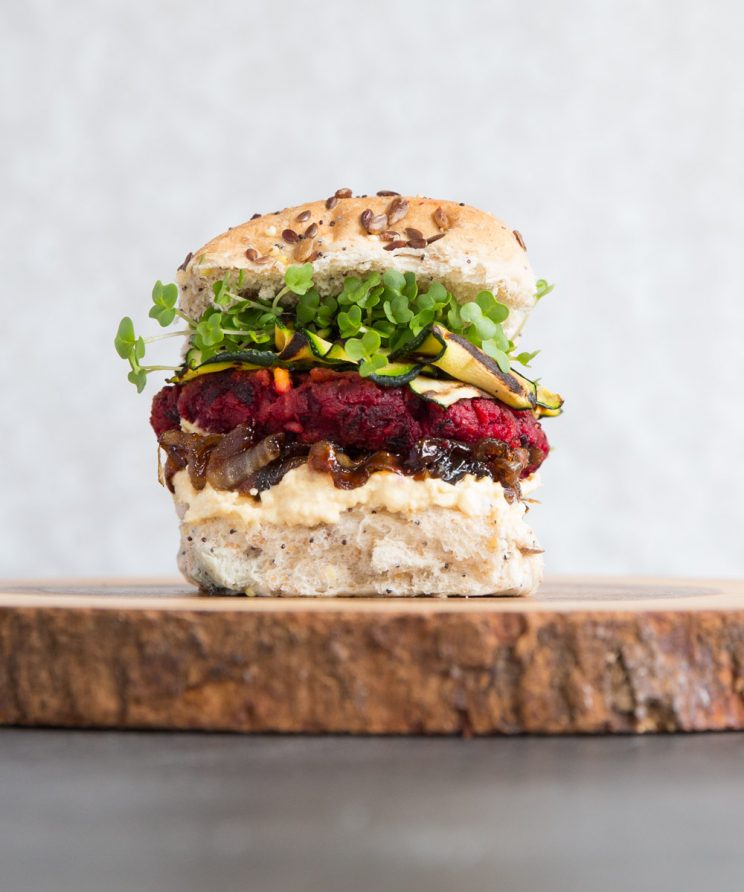 For me, the first step to making the perfect vegetarian burger is to use beetroot. Not only does beetroot offer a huge amount of flavour to the burger, but the colour is just gorgeous. Who doesn't want a pinky purple burger?
But in all seriousness, the single most important step when creating any vegetarian burger is to cook the veg and beans beforehand. More specifically, bake the veg and beans beforehand.
Baking the Beans & Veg
This is the key to an awesome beetroot burger for a few reasons:
Dehydrates the veg so you don't end up with a wet/soggy burger.
Creates a better texture for the burgers.
Intensifies the flavour of the beans & veg.
Sure, beetroot burgers are a little more hassle than making meat burgers, but trust me it's totally worth it.
How to make Beetroot Burgers
Bake your beans and veg.
Once cooled, add your beans in a processor with egg and a little lemon juice.
Combine the bean paste with your beetroot & fillings.
Shape into burgers and fry until deep golden on each side.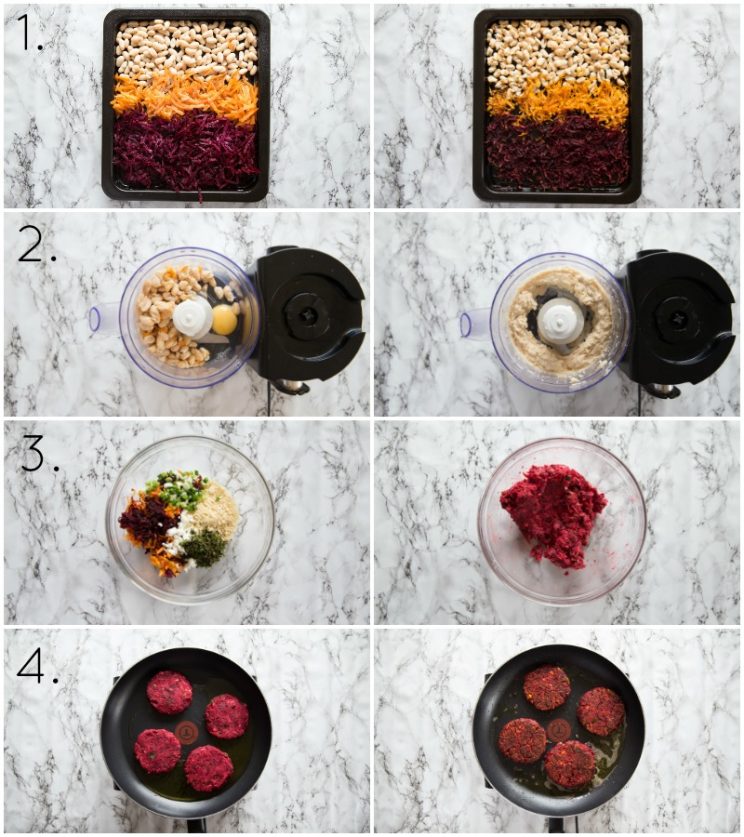 Best Beetroot Burger Fillings
Shredded Beet
Shredded Carrot
Cannellini Beans
Feta
Mint
Green Onion
Lemon
Cashew Nuts
Breadcrumbs
Egg
For me, this gives a simple yet delicious beet burger combo. The fresh blast of mint works beautifully with the earthy taste of the beetroot. The feta adds a nice creamy texture, the carrot offers a little sweetness and the cashews give a nice little crunch.
Tips for the perfect Beetroot Burger
Use lemon juice and breadcrumbs as levers to make the patty mixture wetter/dryer.
Add feta. Beetroot and feta is a marriage made in heaven and beet burgers are no exception.
Test before you make the final burger. By frying up a tiny bit of the mixture before you mould the burgers, you can adjust the texture and seasoning as necessary before you commit to the end product.
Shallow fry in a good amount of oil. Veggie burgers are notoriously low in fat, so to add flavour and to keep them from being dry, don't be scared add a good amount of oil in the pan.
And to be honest, those tips will help with with making vegetarian burgers in general.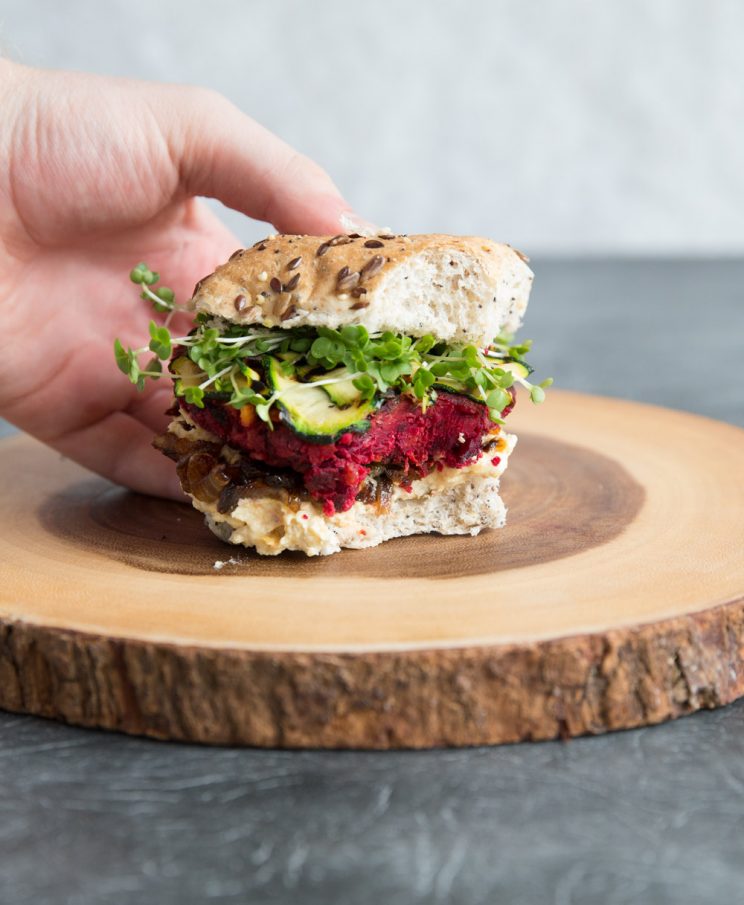 When it comes to toppings, follow your tastebuds! However, here's my go-to every time.
Beetroot Burger Toppings
Grain Bun
Hummus
Caramelized Onions
Grilled Courgette/Zucchini
Cress
Right, let's tuck into the recipe shall we? I'm starving all over again
Awesome Beetroot Burgers
Prep Time
15 mins
Cook Time
25 mins
Total Time
40 mins



These Beetroot Burgers really are the ultimate veggie burger! Follow these tips and tricks for how to get veggie burgers with the PERFECT texture and flavour.
Course: Brunch, Lunch
Cuisine: Vegetarian
Keyword: Beetroot Burgers
Servings: 4
Calories: 356 kcal






Ingredients
2 medium Beets, scrubbed & grated
1 medium Carrot, scrubbed & grated
1 can Cannellini Beans, drained
2-3 large Green Onions (Spring Onion), finely diced
1 heaped tbsp Fresh Mint, finely diced
3/4 cup / 75g Feta, crumbled
1/2 cup / 65g Raw Unsalted Cashews, finely crushed
1/2 cup / 60g Breadcrumbs, or as needed
1/2 Lemon, or as needed
1 Egg
generous amounts of Salt & Black Pepper
generous amounts of Olive Oil
pinch of Cayenne Pepper (optional)






Method
Lay your grated beetroot, carrot and cannellini beans on an oven tray. Spray with olive oil and sprinkle with a pinch of salt, then pop in the oven at 200c/392f until wrinkled and slightly charred. (approx 15mins)

Once cooled, add your beans, egg and lemon juice in a food processor and blend to a paste.

Combine in a bowl with your carrot, beetroot, green onion, mint, cashews, feta, half of your breadcrumbs and generous amounts of salt and pepper.

Take a small pinch of your mixture and mould a tiny burger shape (use gloves if desired). Fry until golden then test for seasoning/texture. For a more moist burger add more lemon juice, to dry out the burgers add more breadcrumbs.

When happy, mould 4 burger shapes and shallow fry in a good glug of oil over medium heat until dark golden colour, flipping once.

Stack with your desired toppings and enjoy!






Recipe Notes
a) Beetroot Burger Fillings - You can really follow your tastebuds, but for me here's the perfect combo:
Hummus
Caramelized Onions
Grilled Courgette/Zucchini
Cress

b) Alternate method of making Beetroot Burgers - Personally I prefer only blitzing the beans/egg and keeping the texture of the other ingredients. However you can blitz everything to create a smoother patty, which in turn will increase the chances of everything sticking together more securely.

c) Oil - Don't be scared to add a good amount of oil when frying the burgers. Vegetarian burgers are often low in fat, so to add flavour and ensure they don't come out dry, shallow fry in a good amount of oil. With the same token, make sure the oil is hot before you add the burgers, else they'll soak up to much and become soggy.

d) Baking the veg - The game-changing tip of baking the veg and beans came from recipetineats.

e) Calories - based per burger patty with any extras.






Awesome Beet Burgers
Reviewed by
Admin
on
December 17, 2018
Rating: