INSTANT POT CHICKEN CONGEE (RICE PORRIDGE OR JOOK)
Advertisement
Advertisement
6 simple ingredients & 6 easy steps to make this comforting Instant Pot Chicken Congee in Pressure Cooker. Frugal, healthy & easy one pot meal that is perfect for those busy days. 😀
Step aside chicken noodle soup, here comes the Instant Pot chicken congee!
Congee, also known as Jook, is a rice porridge that has thousands of years of history in the Chinese culture. It's the ultimate "feel good" comfort food that we crave for when we're not feeling well or when it's cold. You'll definitely feel an instant soothing effect with a good warm bowl of congee.
There are endless variations on how you can customize congee, but chicken congee has to be one of the most popular congee of all. There's just something about the chicken congee that makes it extra comforting to eat.
If you prefer a flavorful yet meatless congee, try our Comforting Pressure Cooker Congee.
There's really no one right way to make congee, as regional preferences vary from super watery to super thick. For us, we like our chicken congee to be slightly thick. But most importantly, each spoonful of congee must be filled with fragrant chicken flavors with tender pieces of chicken. Yum 😀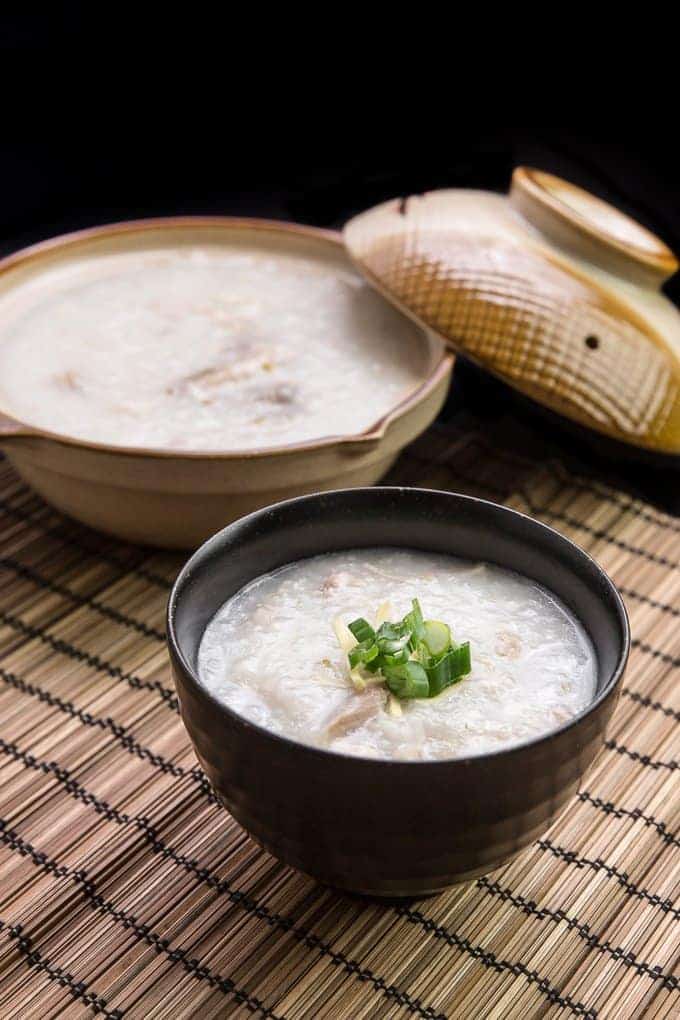 With just 6 simple ingredients + 6 easy steps, this is seriously one of our favorite go-to lazy one pot meals.
6 Simple Ingredients to Make Instant Pot Chicken Congee in Pressure Cooker
Jasmine rice
Chicken drumsticks
Ginger
Green onions
Salt
Water
6 Easy Steps to Make Instant Pot Chicken Congee in Pressure Cooker
Rinse rice
Add water + ginger
Pressure cook
Add chicken
Pressure cook
Stir & season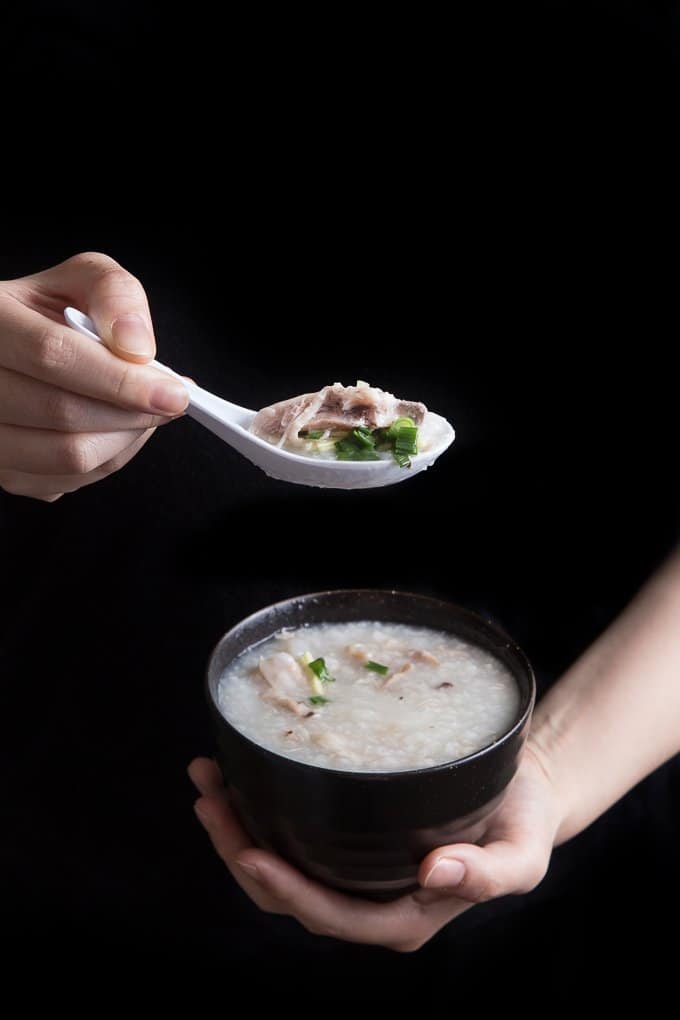 Tips for Instant Pot Chicken Congee in Pressure Cooker Recipe
We tested the difference between cooking the chicken and rice together and separately. After many tries, we finally came up with this easy dump-it-all-in recipe :)!
Now it's YOUR turn to take out your pressure cooker and cook some Chicken Congee in Pressure Cooker!
Craving more? to Pressure Cook Recipes to get our newest recipes delivered straight to your inbox.
Last Updated: Sept 16 2017 – Modified Rice measurement to using standard glass measuring cup.
INSTANT POT CHICKEN CONGEE (RICE PORRIDGE OR JOOK) IN PRESSURE COOKER
6 simple ingredients & 6 easy steps to make this comforting Instant Pot Chicken Congee in Pressure Cooker. Frugal, healthy & easy one pot meal that is perfect for those busy days. 😀

Recipe type: Breakfast/Brunch, Dinner, Lunch, Rice
Cuisine: Chinese
PREP: 5 MINS | COOK: 60 MINS | TOTAL: 1 HR 5 MINS
SERVING: 7 CUPS




INGREDIENTS¾ cup (173 g) Jasmine rice (using standard 250 ml cup)
6.5 - 7 cups cold water (using standard 250 ml cup)
5 – 6 chicken drumsticks
1 tablespoon ginger, sliced into strips
Green onions for garnish
Salt to taste


INSTRUCTIONSRinse 173g (3/4 standard cup) of rice in the pot under cold water by gently scrubbing the rice with your fingertips in a circling motion. Pour out the milky water, and continue to rinse until water is clear. Drain well.
Add ginger, 5-6 chicken drumsticks and 6.5 - 7 cups of cold water (using standard 250 ml cup) into the pot. Do not add salt at this point. (The ratio is 1 cup rice to 9 - 9.75 cups of water)
Close the lid immediately and cook at high pressure for 30 minutes + Natural Release in an Electric Pressure Cooker.
Open the lid carefully. The congee will look watery at this point.
Heat up the pot (Instant Pot: press Sauté button), stir until desired thickness & consistency. Season with salt.
Use tongs and fork to separate the chicken meat from the bones (they literally fall off the bone) and remove the chicken bones and skin (if desired).
Remove congee from heat and garnish with green onions.
Serve immediately.


♥ Spread the Love by sharing this recipe, so others can enjoy it too! Thank you 🙂


NOTES
You can easily customize the congee by adding toppings like crispy garlic, fried shallots, roasted salted peanuts, soy sauce, fish sauce, etc.
INSTANT POT CHICKEN CONGEE (RICE PORRIDGE OR JOOK)
Reviewed by
Admin
on
December 20, 2018
Rating: