INSTANT POT HK TOMATO PORK CHOPS
Advertisement
Advertisement
Make this Juicy Tender Instant Pot HK Tomato Pork Chops Recipe. Easy pork chops in Instant Pot, soaked with delicious umami-packed tomato sauce. Super comfort food your family (yes~ even the kids) will love! 😀
This Hong Kong Style Tomato Sauce has to be one of my favorite comfort sauces from my hometown. It's well-balanced with depths of sweet, savory, tangy flavors, bursting with umami deliciousness. You're going to love it!
We've developed this sauce based on the ones you'll find from Hong Kong Style Cafes – Cha Chaan Teng 港式茶餐廳, hence the name "HK Tomato Sauce". 🙂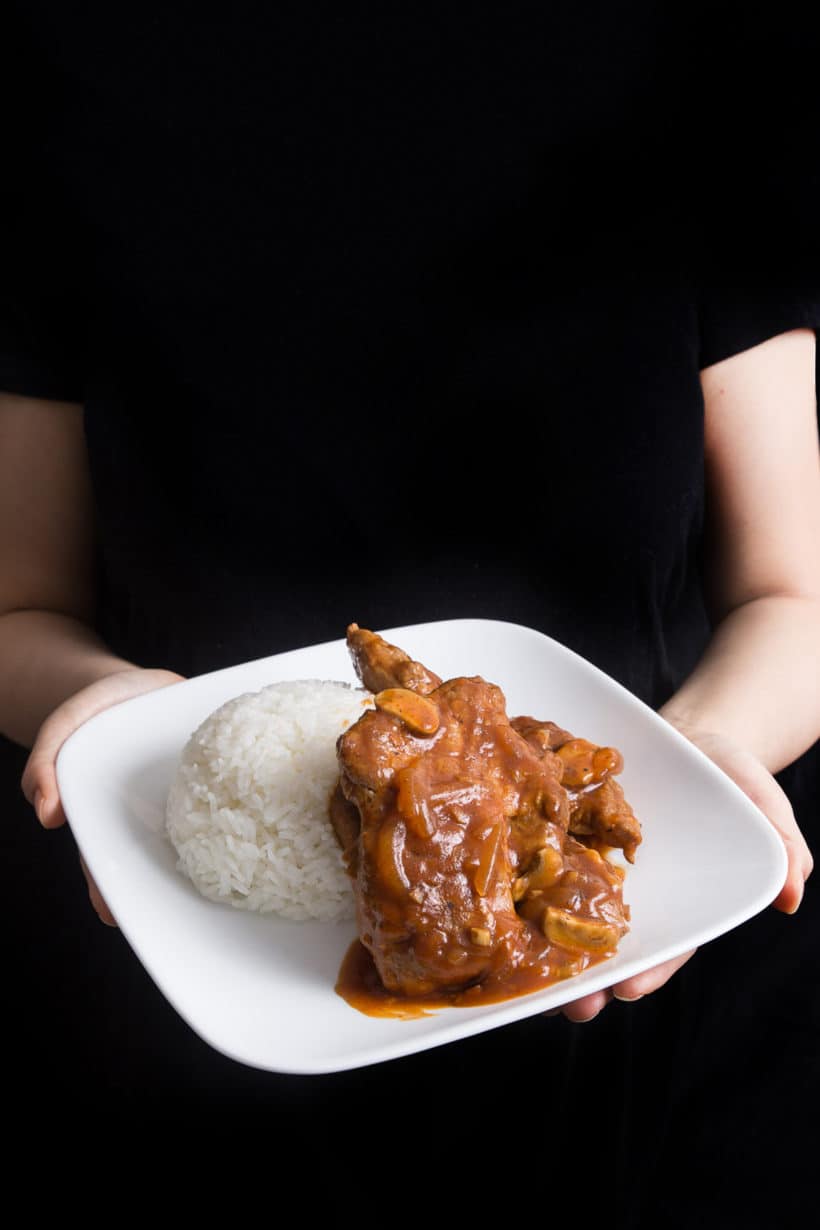 So, what are Cha Chaan Tengs?
If you get a chance to visit Hong Kong, you'll find Cha Chaan Tengs everywhere you go!
These restaurants serve local Hong Kong style comfort food at cheap prices with super fast service (you usually get your food within 5 minutes!) A perfect-fit for Hong Kong's hectic city lifestyle.
Loved for their big portion, cheap, fast, and all-around comfort food we grew up eating.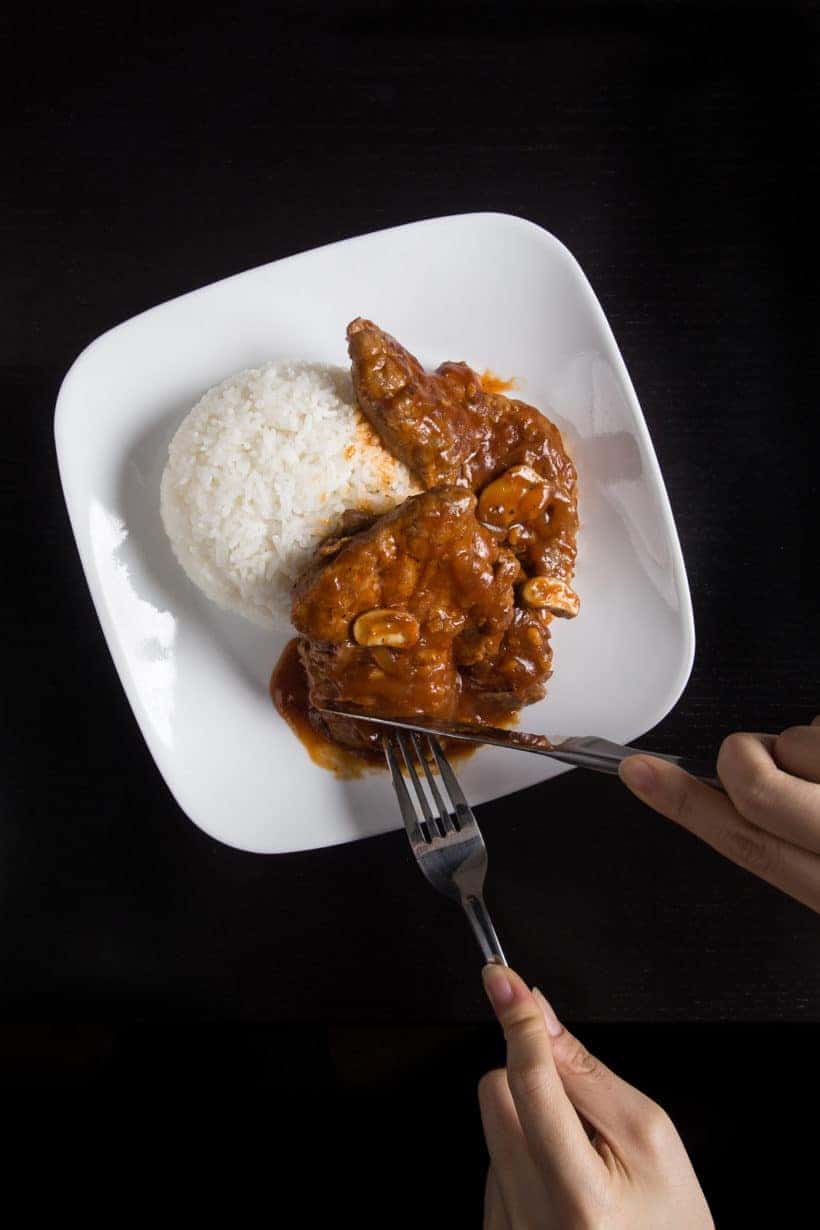 And this Instant Pot HK Tomato Pork Chops 港式茄汁豬扒 we're making today is a classic favorite at Cha Chaan Tengs.
Our version of Hong Kong style Tomato Sauce is very similar to the tomato sauce you get from Cha Chaan Tengs. But, we kicked it up a notch by adding extra ingredients that help intensify the umami flavorings.
Oh yaasss…this tomato sauce works wonder with pork chops…so good!
Instant Pot HK Tomato Pork Chops
Easy Instant Pot HK Tomato Pork Chops Recipe: Juicy tender pressure cooker pork chops, soaked in delicious umami-packed tomato sauce. Super comfort food that both adults and kids are going to love!
Prep Time: 10 minutes
Cook Time: 20 minutes
Total Time: 30 minutes
Servings: 4
Calories: 314kcal
Ingredients
4 boneless pork chops (1.25 inches thick)
Marinade
1/2 teaspoon (2.3g) white sugar
1/4 teaspoon (1.5g) salt
1/4 teaspoon (1.25ml) sesame oil
1 tablespoon (15ml) light soy sauce (not low sodium soy sauce)
1/2 tablespoon (7.5ml) dark soy sauce
Other Ingredients
1 medium onion , sliced
4 garlic cloves , minced
1 small shallot , diced
8 mushrooms , sliced
50 ml tomato paste (roughly 1/5 cup)
2 tablespoons (30ml) ketchup
1 tablespoon (15ml) peanut oil
1 tablespoon (14g) white sugar
1 teaspoon (5ml) Worcestershire sauce
1 cup (250ml) water
Kosher salt and ground black pepper
1 ½ tablespoon (12g) cornstarch mixed with 2 (30ml) tablespoons water
Instructions
Tenderize Pork Chops: Use the back-end of a heavy knife, pound both sides of pork chops to tenderize the meat.
Marinate Pork Chops: Marinate tenderized pork chops for 20 minutes with ½ tsp (2.3g) sugar, ¼ tsp (1.5g) salt, ¼ tsp (1.25ml) sesame oil, 1 tbsp (15ml) light soy sauce, and ½ tbsp (7.5ml) dark soy sauce.
Prepare Pressure Cooker: Heat up your pressure cooker (Instant Pot: press Sauté). Make sure your pot is as hot as it can be when you place the pork chops in the pot (Instant Pot: wait until the indicator says HOT). This will prevent the pork chops from sticking to the pot.
Prepare Other Ingredients: Clean mushrooms with a damp paper towel and prepare remaining ingredients as listed.
Sauté Pork Chops: Add peanut oil in the pot. Ensure to coat oil over the whole bottom of the pot. Add in marinated pork chops, then let it brown for roughly 1 – 1 ½ minute on each side (don't need to constantly flip the pork chops). Do not let it burn. Remove and set aside.
Brown Onion, Shallot, Garlic, and Mushrooms: Add in sliced onions, diced shallot and stir. Add a pinch of kosher salt and ground black pepper to season if you like. Cook onions and shallot for roughly 1 minute until softened. Then, add garlic and stir for 30 seconds until fragrant. Add in mushrooms and cook for another minute. Taste seasoning and adjust with more kosher salt and ground black pepper if necessary.
Deglaze: Add ¼ cup (63ml) water and fully deglaze the bottom of the pot with a wooden spoon.
Create Tomato Sauce: Add in ¾ cup (188ml) water, 2 tbsp (30ml) ketchup, 1 tbsp (14g) sugar, 1 tsp (5ml) Worcestershire sauce, and 50ml tomato paste (See Tips). Mix well.
Pressure Cook Pork Chops: Place pork chops back with all the meat juice in the pot. Close lid and pressure cook at High Pressure for 1 minute. Turn off the heat and Full Natural Release (roughly 10 minutes). Open the lid carefully.
Taste & Thicken Tomato Sauce: Remove pork chops and set aside. Turn heat to medium (Instant Pot: Press sauté button). Taste the seasoning one more time. Add more salt and pepper if desired. Mix cornstarch with water and mix it into the tomato sauce one third at a time until desired thickness.
Serve: Drizzle the tomato sauce over the pork chops and serve immediately with side dishes!
Notes
Tenderize Pork Chops: Make sure to tenderize the pork chops before marinating them. This is an important step.
Mixing in the Tomato Paste: Mixing in 50 ml tomato paste to 250 ml of water should not cause scorching. If you are unsure, just let the tomato paste sit on top of all the other ingredients unmixed. Avoid mixing in the tomato paste if you exceed the 1 cup of tomato paste to 5 cups of water ratio.
*The Total Cooking Time does not include idle/inactive time.
INSTANT POT HK TOMATO PORK CHOPS
Reviewed by
Admin
on
December 20, 2018
Rating: