LEMON GARLIC SHRIMP RECIPE WITH PEAS AND ARTICHOKES
Advertisement
Advertisement
Easy garlic shrimp recipe with peas and artichokes! A quick and bright one-skillet meal. Be sure to see our suggestions for what to serve along.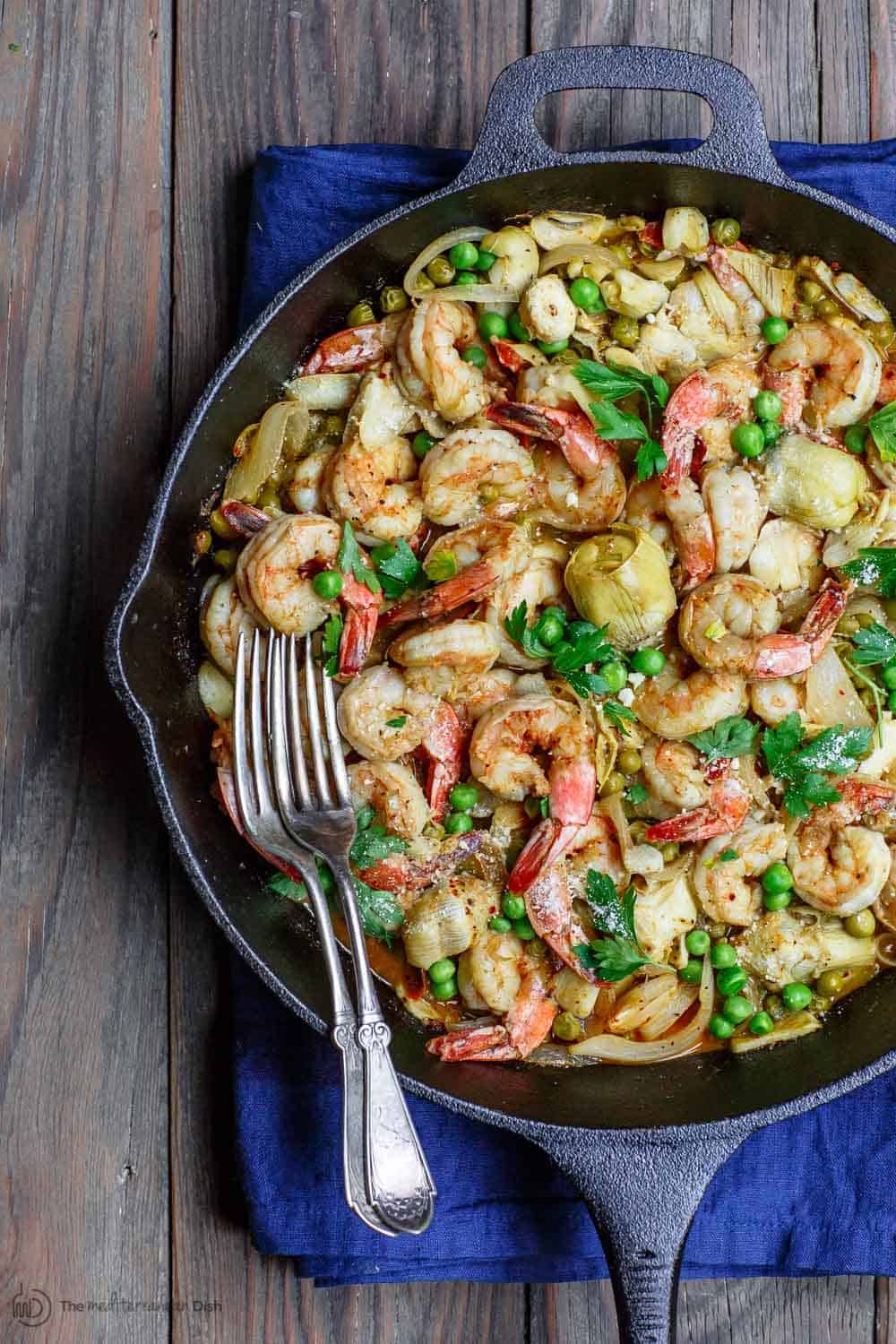 Ya gotta love shrimp! It's one of those ingredients that take very little effort to work with. Tasty, and super versatile! I always keep some frozen raw shrimp, already peeled and deviened, on hand for quick use.
Armed with a large skillet and a bag of shrimp, I can make a mean shrimp dinner in minutes. Case in point, this lemon garlic shrimp with peas and baby artichokes! We're talking 30 minutes in all.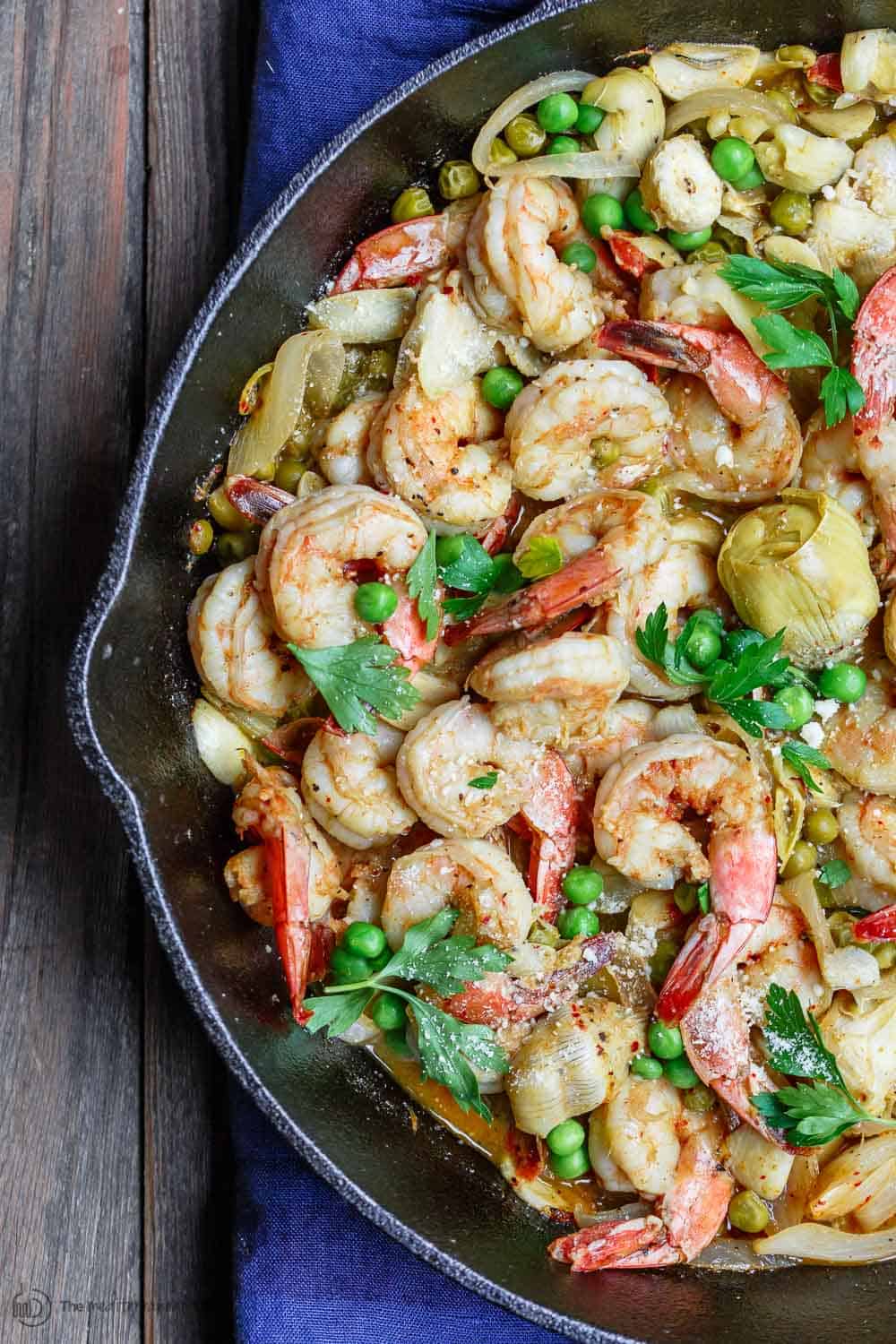 ABOUT THIS LEMON GARLIC SHRIMP RECIPE
Adding peas and canned artichokes here easily turns my few shrimps into a bright one-skillet meal. And as the name already implies, the main flavors here are lemon and garlic. But a quartet of my favorite spices makes a great coating for the shrimp and adds depth to this simple recipe. Here I used, coriander, cumin, sweet paprika and Aleppo pepper.
And to answer your question, no Aleppo does not turn this shrimp recipe spicy. If you're not familiar, Aleppo pepper, also known as Halaby pepper, is a special spice of fruity, tangy chili flakes. It's meant to add warmth here without overwhelming the dish.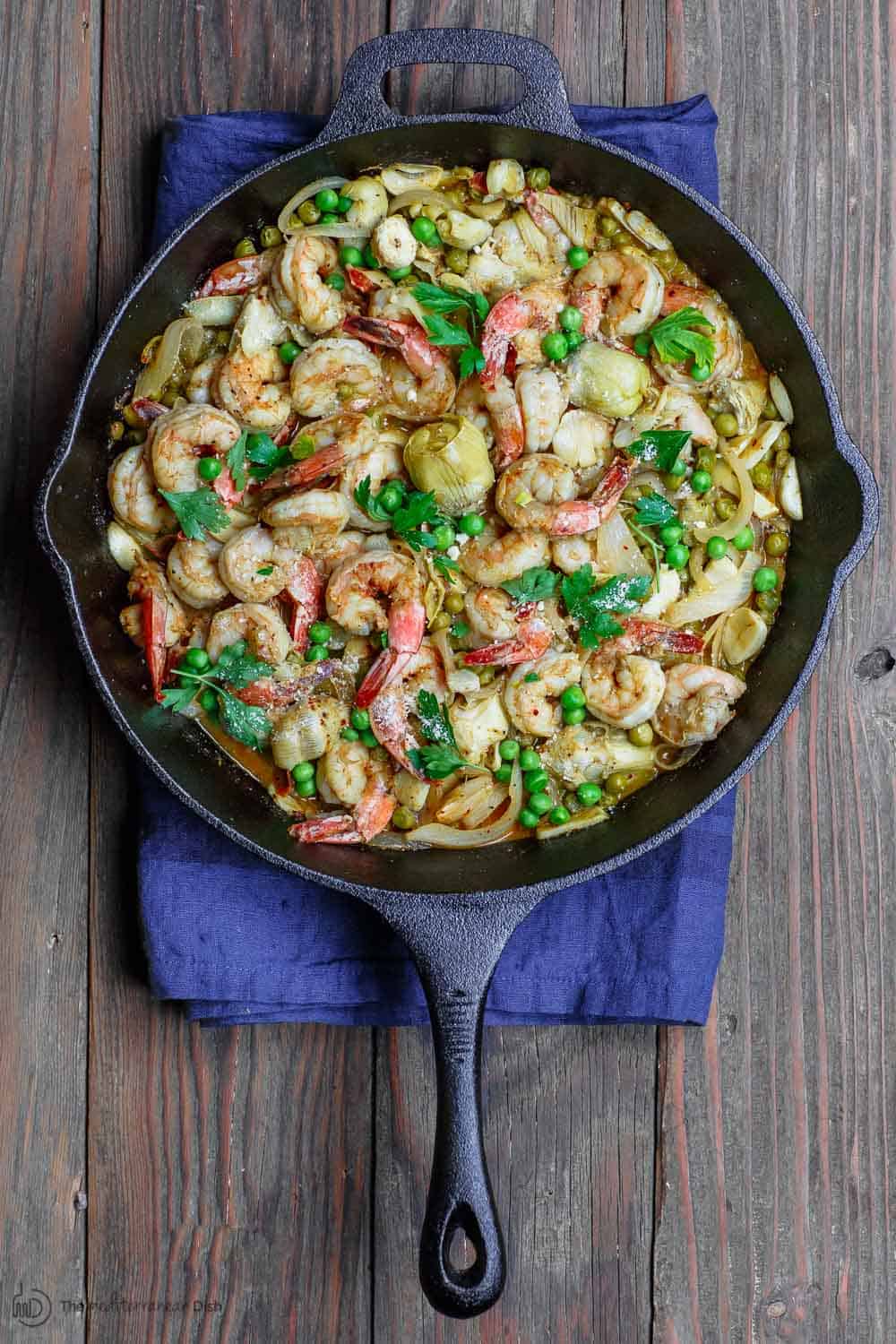 WHAT TO SERVE WITH THIS LEMON GARLIC SHRIMP RECIPE?
Because this is quite a lemony dish, I like to serve it on top of a simple small pasta like orzo, or my go-to Lebanese rice. And no need to complicate things, a bowl of salad to start the meal is really all you need. I went with fattoush salad this time, but you can choose from the many Mediterranean salad options.
lemon garlic shrimp recipe with peas and artichokes
Prep Time: 10 mins
Cook Time: 20 mins
Total Time: 30 minutes
Yield: Serves 4
Cuisine: Mediterranean
DESCRIPTION
Easy lemon garlic shrimp with peas and artichokes. Perfect on top of orzo pasta or rice.
INGREDIENTS
For spice mixture
1 1/2 tsp (between 2.5 and 3 g) ground coriander
1 1/2 tsp (between 2.5 and 3 g) ground cumin
1 tsp (about 2 g) Aleppo-style pepper
1 tsp (about 2 g) sweet Spanish paprika

For shrimp
1 lb (about 454 g) large shrimp or prawns, peeled, deviened, tail-on (if frozen, thaw properly before use)
Salt and pepper
Private Reserve Greek extra virgin olive oil
1 small onion, halved then sliced
6 to 8 garlic cloves, chopped
1 cup (236 ml) dry white wine
2 tbsp (30 ml) fresh lemon juice
2 tsp quality honey
1/2 cup (125 ml) chicken broth
1 1/2 cup (225 g) frozen peas, thawed
1 15-oz can (about 425 g) baby artichokes, drained
Grated Parmesan cheese, to taste
Fresh chopped parsley, for garnish



INSTRUCTIONS
In a small bowl, mix spices.
Place shrimp in a bowl. Season with salt and pepper and about 2 1/2 tsps of the spice mixture (keep rest of spice mixture for later.) Set shrimp aside for now.
In a large cast iron skillet like this one, heat 2 tbsp Private Reserve extra virgin olive oil over medium heat until shimmering but not smoking. Add onions. Cook 5 minutes, stirring occasionally. Add garlic. Cook 1 to 2 minutes more, stirring regularly, until fragrant and golden (do not brown garlic.)
Add white wine. Cook to reduce by half, then add lemon juice, honey and broth. Raise heat and bring the liquid to a boil.
Add peas and artichokes. Season with salt and pepper and the remainder of the spice mixture. Cook for 10 minutes or so until peas are cooked through.
Add shrimp and cook until just pink (this will be very quick, so watch for shrimp to turn color, toss as needed.)
Remove from heat. Sprinkle grated Parmesan cheese to your liking and garnish with fresh parsley.
Serve hot with a side of simple orzo or this Lebanese rice.
LEMON GARLIC SHRIMP RECIPE WITH PEAS AND ARTICHOKES
Reviewed by
Admin
on
December 13, 2018
Rating: