Advertisement
Advertisement
Perfect Prime Rib Roast should be served for dinner this holiday season. Want to know how to cook a prime rib roast? This is the best prime rib recipe!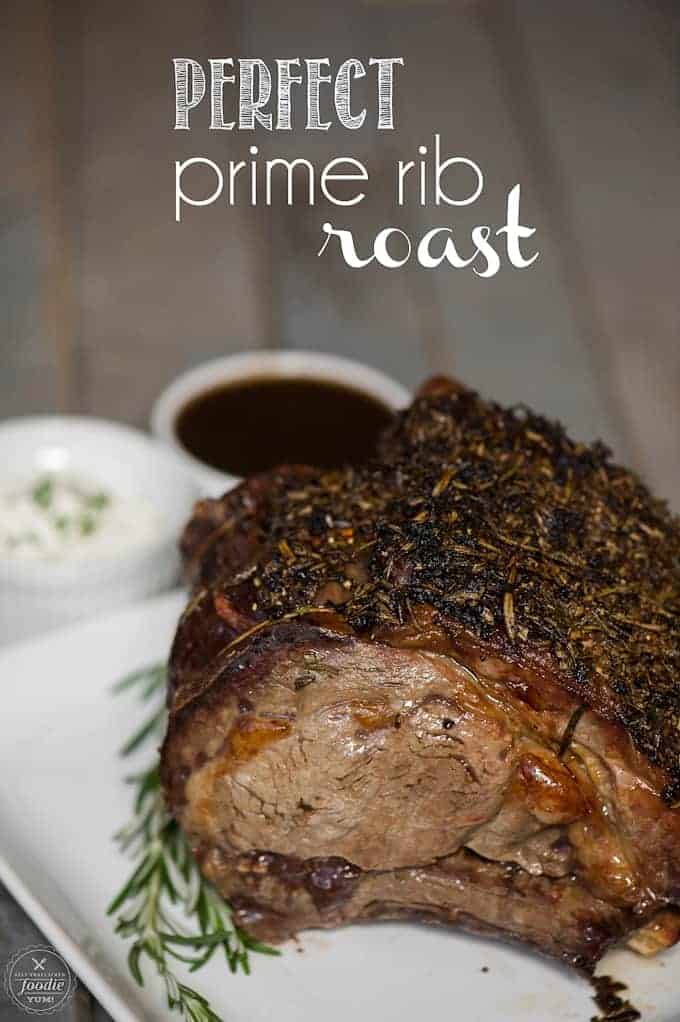 Prime rib roast is made once a year in our house. Why only once a year? Well, because every year we order a quarter cow from a local ranch. Once you buy local grass fed and finished beef, it is really hard to go back go buying any beef at the grocery store. Not only is the taste and quality far superior to most anything you'll find at the store, but for me, the convenience of having so many cuts of meat at the ready is necessary to keep me creative in the kitchen. This is what I use to make my Roasted Beef Broth along with wonderful soups like Winter Minestrone and French Onion Soup. I also buy my pork from a farm as well and that's what I use to make my Country Sausage Gravy – YUM!
When you buy a quarter cow, however, you only get one rib roast and that's only if you specifically request it. Hence, I only make a prime rib roast once a year. It is an expensive cut of meat, so you don't want to mess it up by not knowing how to cook a prime rib. This prime rib recipe, however, has always been my favorite way to cook a rib roast. It's actually incredibly simple. This prime rib recipe makes a bold rich red wine sauce but I'm also of the opinion that a good prime rib roast always deserves a little horseradish kick on the side too. Enjoy!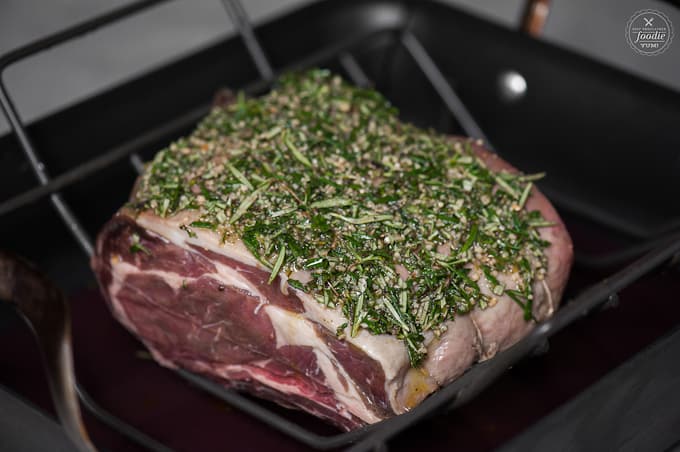 Prime Rib temperature:
Plan to remove your prime rib roast from the oven when it is at 10 degrees below your desired final temperature.
The final prime rib temperature for rare meat is 120-125°F, medium rare is 130-135°F, and well done is 140-145°F
When you cook for a crowd, the best rule of thumb is to remove your prime rib roast from the oven when it hits 120°F and allow it to rest for about 20 minutes while loosely tented with foil. If you target medium rare, you'll most likely please everyone's preferences for how they like their prime rib roast cooked.
As with any large cut of meat, your prime rib cooking time must depend on an accurate thermometer. Long ago I stopped following directions that just gave oven temperature and time. When you cook a giant hunk of meat in a roasting pan, you have to get the inside to the exact right temperature andyou have to let it properly rest if you want a perfectly cooked, tender, juicy roast. There are so many factors involved including the size of your roast, the prime rib roast's starting temperature (did you pull it straight from the refrigerator or did you let it rest on the counter for a bit?), the temperature of your oven, and how consistently your oven cooks. I've learned all of these things over time through the practice of ruining several large meals. Lessons learned! Now, I won't cook anything like this without my thermometer. When I make prime rib roast and focus on the prime rib temperature, it turns out perfectly every time.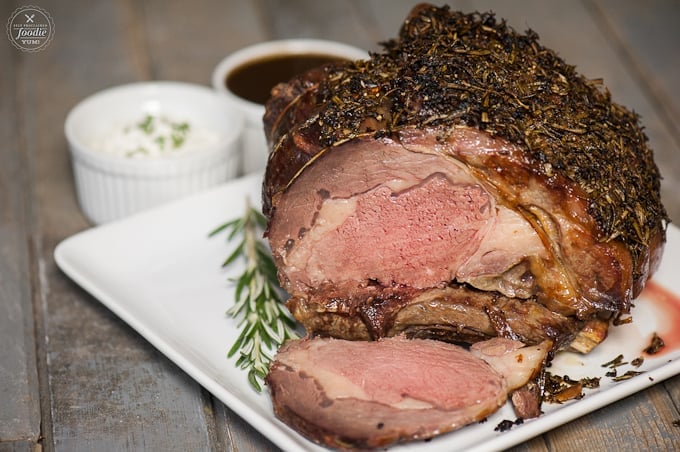 Perfect Prime Rib Roast
This holiday season, serve your friends and family a Perfect Prime Rib Roast for dinner. Its an elegant yet easy to make main dish.
Course main dish
Cuisine American
Prep Time 20 minutes
Cook Time 2 hours
Resting time 20 minutes
Total Time 2 hours 20 minutes
Servings 6 servings
Calories 73 kcal
Ingredients
1 4-5 pound bone in beef prime rib roast
1 750 mL bottle red wine
2 cups beef broth
2 tablespoons olive oil
2 tablespoons garlic
2 tablespoons fresh rosemary minced
2 tablespoons fresh thyme minced
1 tablespoon kosher salt
1 teaspoon freshly ground pepper
optional:
1/4 cup sour cream
1-2 teaspoons creamed horseradish
Instructions
Allow meat to sit at room temperature for at least an hour prior to cooking.
Preheat oven to 450 degrees F and ensure top rack is low enough such that the roasting pan will be in the middle of the oven.
Using a roasting pan with a rack, add 2 cups of wine and the beef broth to the pan. Reserve the remaining wine for later. Set the roast in the rack, rib side down and fat side up. Mix olive oil, garlic, herbs, salt and pepper in small bowl and spread on top of roast.
Insert meat thermometer into meaty part of roast avoiding contact with the bones.
Roast in 450 degree oven for 20 minutes, then reduce heat to 350 degrees and continue cooking until the internal temperature reaches 115 to 120°F for medium rare (125 to 130°F after resting), or 125 to 130°F for medium (135 to 140°F after resting). And remember, a roast will continue to rise by 5 to 10°F as it rests. I removed my roast from the oven when it hit 125°F. Total cooking time will depend on size of roast and initial temperature. Once removed from oven, transfer roast to plate and loosely tent with foil and allow to rest for at least 15-20 minutes.
While the roast is resting, place the pan on the burner with the rack removed. Add remaining wine and cook on low temperature to burn off some of the alcohol and work in all the flavor from the bottom of the pan. When roast has finished resting, skim off any fat from the wine sauce and serve warm sauce along side the roast.
If desired, mix sour cream and horse radish to serve along side roast as well. For planning purposes, this roast takes about 15 minutes per pound of cooking time plus resting time, so based on the weight you can work backwards to figure out when to start the cooking process.
PERFECT PRIME RIB ROAST
Reviewed by
Admin
on
December 17, 2018
Rating: